A macro lens is pretty standard in any lens line up.  A macro lens is a lens that can reproduce a subject at life-size on the sensor, or very close to it.  Often you find a short, medium, long, or extreme macro.  For most uses the medium length provides the most versatility and is generally in the range of 27-degrees – 20-degrees diagonal field of view.  The Olympus 60mm lands just about 20-degrees and is slightly longer than the Canon 100mm for instance.  Short macro is like the Olympus 30mm, long is like the Canon 180mm, and extreme by my definition is anything that goes beyond 1:1 reproduction. (I'm not counting microscope based photography in this discussion at all…)  The biggest difference between short and long macros is how close you have to get to your subject.  The longer the macro lens focal length, the more distance between your subject and the lens.  A benefit when working with living critters.
The Olympus 60mm is a true macro lens and goes to 1:1 life size reproduction.  Just to give an example, the 12:40mm Pro can do 1:3 magnification.  (1/3 lifesize)  Here is a photo from a camera locked on a tripod at closest focusing distance with the 12-40, and then the Olympus 60mm.
You can see there is a major difference between the two.  A close focusing lens might be great on larger subjects like butterflies and mantis…but if you want to see spider eyeballs you need to be at 1:1 at least.  These images are also uncropped examples.
The 60mm Macro is a tiny lens for shooting tiny subjects.  It is not only narrow, but extremely lightweight.  It is mostly a plastic casing, but it feels decently solid for a lens.  In use it is entertaining how small the lens is.  It offers stellar results though.  Don't underestimate it for its size.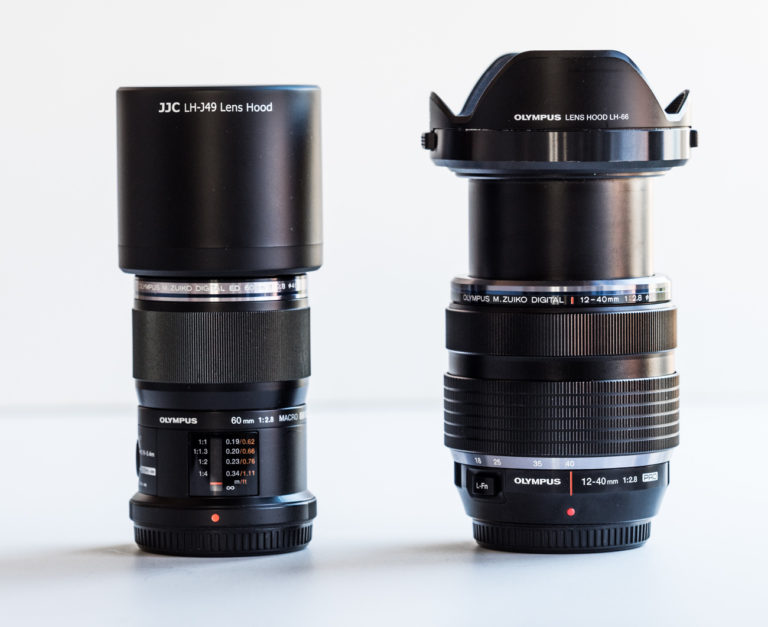 The 60mm might seem long…and technically you can see it is…but being so narrow and light changes the experience of holding it on a camera.  It is a very small lens in hand.  The filter thread is a mere 46mm!  The lens hood is similar to the 40-150 Pro where it slides back over the lens.  It just never got the hype of the 40-150.  The 40-150 hood is much smoother.  Then again I only have an aftermarket hood, seen here the JJC version, and not the Olympus hood.  The Olympus hood might be much smoother.  The JJC hood is extremely inexpensive…but it has a lot of resistance moving up and down.  Regardless, it works and stays extended without worry.
You can see in the photo above a close up of the distance scale on the right that tells you what magnification you are at.  On the left there is a switch.  The switch has three positions to limit focusing distance.  This is great if you don't want the focus to hunt to the extremes when working at macro distances or at portrait / landscape distances.  When you are at .19-.4m on the switch, you can rock it up further to the 1:1 indicator.  This instantly moves focus to the closest focusing distance.  With a macro lens, it is often easier to set the lens to 1:1 and then move the whole camera back and fourth until focus is achieved on your subject.  Also note the hood retracted in this picture.
Here is an image to get an idea of the working distance you have with this lens.  With the hood on you are literally just an inch or two from your subject.  If you are working with bugs that are spooked easily, it might be best to remove the hood.
You can see here with the hood removed, the distance is technically the same but you have less of the camera approaching your subject.  At macro distances side light flaring is less of an issue.  I almost never shoot 1:1 with a hood.
Having a stabilized (in camera body in this case) macro lens and an electronic viewfinder makes shooting at small distances much more manageable.  If you use focus peaking, you can get a visual confirmation of being in focus as well.  Very helpful when rocking the camera in and out of focus.
Take notice both of these shots are at F/8 and there is still an amazingly narrow depth of field.  This is where focus stacking usually comes in if you need greater depth of field.  I found the sharpest aperture seemed to be about F/5.6.  I used everything up to F/11 all the time.  For maximum sharpness I would stay at F/8 and below.  Even F/2.8 is sharp, but the DOF at 1:1 is just a sliver.
I love the bokeh, or out of focus areas when using this lens.  It has a wonderful transition as well.  Just smooth.
This lens is also great as a longer nature lens.  It renders so beautifully.
Being a 60mm lens, it is personally one of my favorite lengths for portraits.  The 75mm is often just a little tight for me, and 40-45 is sometimes a little wide in terms of perspective for my taste…but 60mm is just right.  You have shallow depth of field, but just enough in focus where it counts to still capture the face crisply while everything else falls out of focus.
I recently had a product shoot where I used this lens exclusively.  In fact I use it often for this kind of work.  I can shoot everything from up close details to larger items pulled back without switching lenses.  At 200 ISO, F/11, 1/250 of a second and some strobes you have an excellent setup for product work.  Especially tethered where you can focus stack so easily if you need.  You can step focus from the computer with Olympus Capture.  Very convenient.  Here are a few product shots.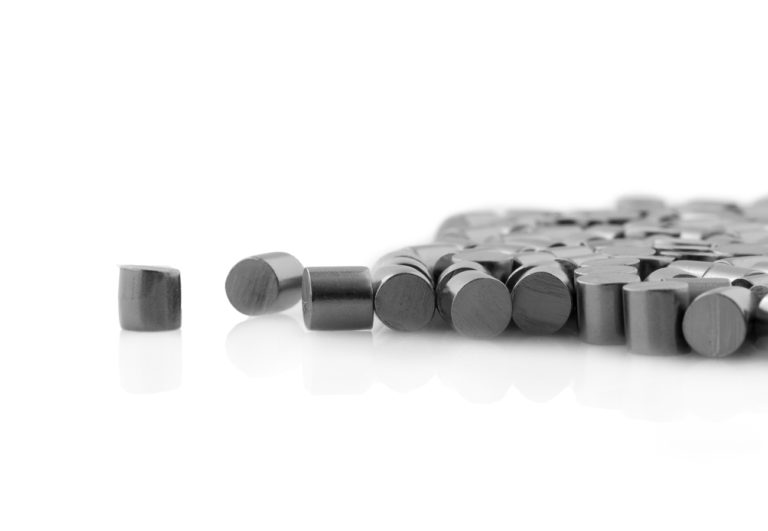 The 60mm Macro is a very versatile lens.  Portraits, products, landscape, nature, macro, it handles them all very well.  It has a beautiful bokeh, and great color.  It's lightweight and small enough to barely make a dent as an extra lens.  This is one of my favorite Olympus lenses.  I have to be honest, the 12-40 Pro is so good and can focus to 1:3 macro, that I often do not take a true macro lens into the field with me much anymore.  There is no replacement for a true macro though.  If I know I will be focusing on macro subjects, this is the lens I take.  There is no better general macro lens for your Olympus.  If you do macro of products only, or reproduction work, the 30mm is a little cheaper and might be just fine for you.  If you shoot living creatures at macro length, this is the way to go.  Some of the extreme macro lenses that go beyond 1:1 are nice, but this lens also has autofocus.  You can use it for other subjects when not working at 1:1.  I think this lens would make a great 3 lens setup with the 12mm and 25mm primes.  Wide, normal, and portrait + macro is great for a three lens kit that is small and pocketable.  Pocketable.  Wow.  Try that with an SLR setup…